So I cut my hair. REALLY cut it haha. I have some pictures, but they're from like...the day after I cut it, and I've been styling it a bit messier/curlier. Here they are anyways: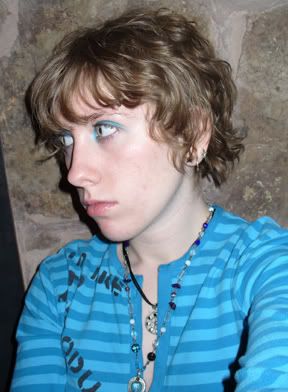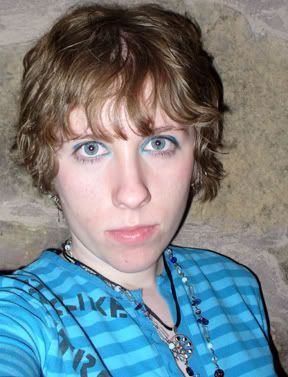 haha and I can totally put it into a mohawk. (which I might try later today) YES! Got mixed feedback on it....I really like it. But if I get one more person going "WHY DID YOU CUT YOUR HAIR?!" then I think I might smack them. Because I wanted to, duh.
I like that Postsecret. Which reminds me that I need to watch Fight Club still.
Pretty uneventful weekend overall, but it was made yesterday for (probably totally silly, but I can get my hopes up if I want to) reasons that you people aren't going to know (unless I tell you specifically).
There's an art show at the Foundry next Friday...gonna be submitting some of my stuff (only two; pencil/oil pastel one of a hawk from last year and acrylic of Yggdrasil) although I doubt it'll be good enough to get in. But I can try anyways, and I'll probably end up going. Should be fun.
Mandatory staff meeting tonight from 7-9. Had to work yesterday from 10-9, that SUCKED. I was originally only scheduled for 2-10, but I was also covering for Andy (10-4), because I'm just too nice. Since it got way slow later on, and there were two other closers, Heath sent me home since I'd been there the longest. It was pretty crazy yesterday - worse than the day after Thanksgiving, or at least the time that I was there on Black Friday. And then it slowed down all of a sudden. Saw Mr. Withers and his wife, among others.
and now, I'm out!