Clearance aisles are really bad for me. How, you ask?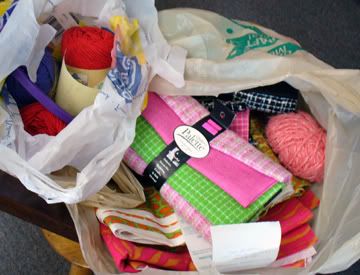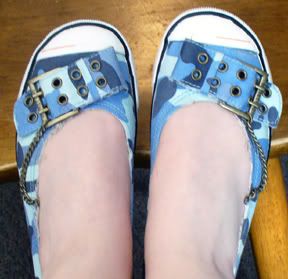 That's how. Ouch. But look...that fabric (the neon colored leopard print and zebra print stuff, which probably everyone except me will find godawful ugly) was $1.50 a yard! and those quilter block thingies were like $3.50. No, I don't quilt. But I bet I can make some great appliques out of them. And the yarn was cheap too. And look - that blue yarn (which you can't really see) matches the blue houndstooth. And then all that cotton yarn was on sale at Hobby Lobby and I NEEDED those colors for a hat in progress. I also got some bamboo knitting needles with a coupon for my sister, because she has taken up knitting. Kind of. And those shoes were $12! $12!!! I can blame the shoes on Lydia at least, because she made the mistake of showing me the clearance aisle in shoes. Yeah, it's her fault.
My shrug is almost done. I need to make the hood, and I need to seam up the sleeves. and then make the patches for the shoulders...I decided it was too plain, so I'm going to embroider swallows (old sailor-jerry style) in black on the pink stuff that I got on clearance, and sew those on it. that should do it. and one of the neon-animal prints is going to be a laptop bag, for my new squishy. (yes, that is what I decided to name it) I was going to crochet one out of this wool that I have and felt it, and then embroider a lotus on it. then I realized it would take like 6 balls of yarn, and I only have two (one already crocheted up). But I still like the idea. Just have nothing to make with it.
Working on editing pictures of hats for my shop. I still need to set up a paypal account so that I can actually start listing items. Plus I have some new ideas. Not enough time in the day....considering that I still to need vacuum the house, among other things, before I leave, and I wanted to go someplace with wifi to download some more things.
I'm still enjoying the lack of school. Even if it might mean that I'll have to graduate later, which I'm trying not to think about.