hmm. I got my handspun yarn from
Etsy
today. Happy happy joy joy! Just in time for spring break. (and on that note:
HALLELUJAH! etc. etc.)
Pictures: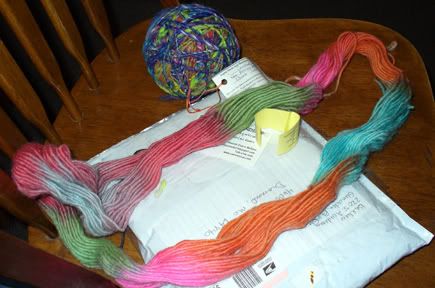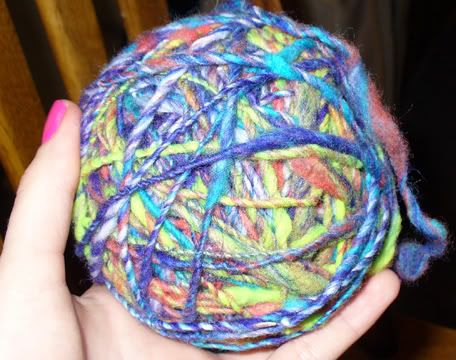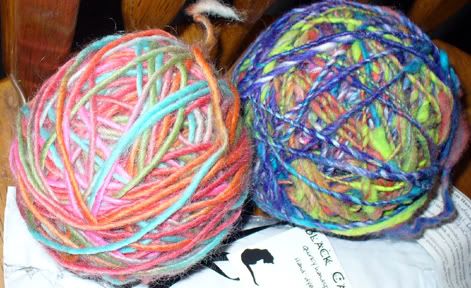 (note the pink nail polish, half of the pink + orange nail polish that Lydia oh-so-kindly noticed and complimented me on today)
I realized that the colors would probably show better in untwisted hank form. One (the one in a ball) is a rougher wool/nylon blend, 87 yds, and has a freakin' rainbow array of all these neon colors - thick'n'thin, going from a little over worsted to very very thin, I was wondering if it'd break when I was winding it). The only thing that ticked me off a bit is that it still had a tiny tiny bit of vegetable matter left in it. The other one is a wool/mohair blend (100 yards) and is soooooo soft! They make me want to learn to spin faster. I found a neat drop-spindle kit on etsy for a reasonable price, with some roving (from animal friendly indie farms) included.
The issue is that I don't know what to do with either of them. Unless they're worked waaay loose, the yardage isn't really enough to do anything significant...I already have a scarf, and I'm not so big on hats most of the time. Wrist/leg warmers? maybe *shrugs* The neon thick'n'thin screams eighties to me...too bad I couldn't really see them combined, waaay too many colors at once. I'm thinking some kind of super-see-through corset tank with the neon, and...I don't know what yet with the other yarn. Plus I've got all of this(very soft acrylic/mohair blend):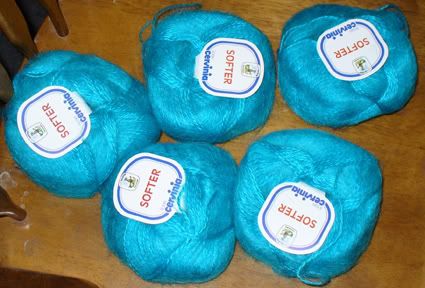 waiting to be made into a sweater. (again, sheer, either long-sleeved or 3/4ths sleeved, off the shoulder)
Maybe I'll use the leftovers from all of them and do a mixed sweater, a la
this
. (and at some point, I'm definitely making my own version of the '
only anarchists are pretty
' shirt. haha. I'd like to meet her someday) the teal in the handspun matches the teal in the acrylic/mohair blend almost perfectly...so maybe I can use those two together. ooh, an idea on that. hmm. neat.
aaand...now, either bed or more sitting here and thinking. but I am SO glad spring break is here. and Alex is coming at the end of this month! yay!!
Labels: crafty, handspun, vivienne westwood, yarn