so I'm sitting here because the Shining creeped me out and I'm not really tired anyways...against all logic. but yeah, picture of the WIP: (that's work in progress)
^this is the front (or back, one side, whatever) of the sweater (and yes, the neckline is meant to be asymmetrical)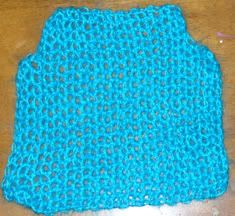 ^and this is the sleeve (or part of it) for the off-shoulder side
I made it so that the sleeve(s) will only go down to about elbow length. I want the ends of the sleeves to be verrrrry slightly belled and I figured rather than trying to figure out a slope for the whole sleeve design, I'll just crochet the sleeves on starting at the elbow and bell it as I go along.
I made my etsy goals for the weekend(see little thing in blogger sidebar - who's proud of me?! :D). Barring the legwarmers, which I frogged because I was getting frustrated, so I'm working on a different method now. I even listed a bunch of shoes and some purses on my brand-spankin' new ebay profile. (that I've already used to buy some Urban...aw crap. Urban something makeup brand Primer Potion and a set of makeup brushes, but Paypal is being SO SLOW in the payment so I probably won't get them 'til like next week...) I can't wait for my Best Buy order to get here either. That's the only bad thing about ordering online...you spend money, but it doesn't feel like you do since you don't get anything in your hands.
Anyways, hopefully I'll have enough by the end of this week (between eBay, listing some stuff for my mom, and my tax return - WHICH BETTER GET HERE THIS WEEK or some federal heads are going to roll, I tells ya) that I can get a new pair of Vans I've been lusting over for ages from Journey's, some Kryolan makeup off of eBay (also definitely lustworthy...yummy neon colors!), and make an order off Interpunk.com for some 4-5 cds and an on-sale t-shirt to boot. That would make for a very, very happy Michelle indeed.
Urban Decay. that's the brand.
I got warm fuzzies because the new girl, who, FYI, I haven't actually worked with yet, just met in passing a few times, was like "oh hey I have something to ask you about!". She wanted me to see if I could turn a shawl into a purse (I told her I'd have to see the purse design) and fix up a shirt for her. And I mean, I was going to do it, but I was a little miffed because I thought it was rather presumptuous seeing as how we had only talked in passing, to assume that I'd do her favors. (and I get so many people who are all "hey yeah, so can you make me a hat like the one you made one of your close friends as a CHRISTMAS PRESENT and spend like $6-10 in materials and then two or three hours of your time, for free? please?" and I'm like, WTF are you smoking, that it rubbed a bit) anyways, she goes "yeah, if you could do that, I would appreciate it SO MUCH, and then just let me know what I owe you, 'kay?"
aww.
and then I forgot and left it in the back room.
damn.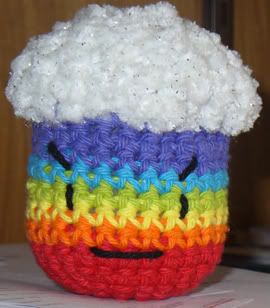 behold the angry gay cupcake! (which reminds me, I need to start working on Heath's b-day present...stencilled t-shirt, must be done by the 26th)
neat, I already sold that book I put up for sale on etsy. although it was a way way reduced price and I'm probably going to make all of $3 off of it. since it won't fit in the $#@%ing padded envelope we have. oh well, more feedback at least.
and Jordan still owes me $10! *makes note*